We get asked quite a lot why we have a hydrotherapy pool but don't have a treadmill at our centre and there are a few simple reasons but as clients and veterinarians become more aware of underwater treadmills we thought it would be a good idea to discuss the benefits of both so that you can come to your own conclusions about what might be best for your dog.
The rise in popularity of treadmill appears to be primarily fed by two areas:
An increase in the amount of scientific research being undertaken in them
An increase in their availability for vets and therapists due to the smaller size they occupy
However, before diving into some more analysis there's a couple of things we think you should know:
---
How therapists see hydrotherapy
A good therapist will understand the biomechanics of your dog. They will know that your dog is designed to move forwards not backwards, that movement is driven by a combination of muscle power and the proprioceptive system (both in a conscious and unconscious state). And, they will understand that it is their role in rehabilitation to provide movement enriching activity in an aquatic environment.
Historically, most people will think of hydrotherapy in two forms – swimming in a pool and walking in a treadmill. Over the last decade the understanding and scientific research in hydrotherapy has advanced considerably and this is no longer the way to think of hydrotherapy. We can increase the water depth to swim a dog in an underwater treadmill and we can use pods to walk a dog in a hydrotherapy pool. So this brings us back to "it's a facility to aid movement"
Primarily a hydrotherapist uses their tools to:
Improve your dogs engagement with their natural balance and stance
Shape movement appropriately
Align your dog properly
Undertake dynamic exercise
Undertake static exercises
---
An Underwater Treadmill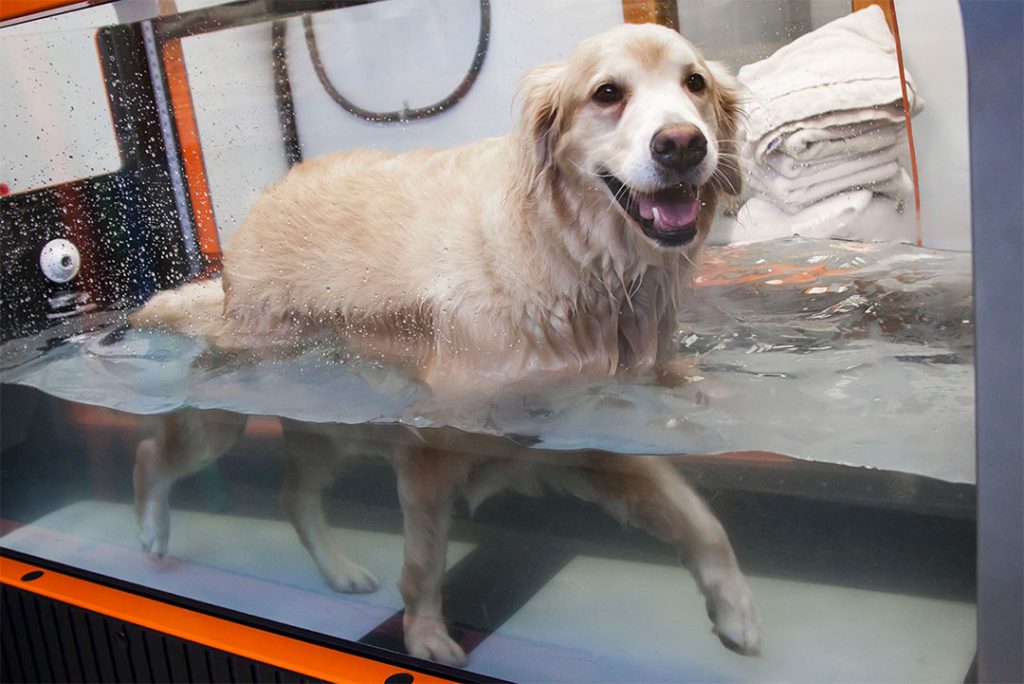 Provides…
Ability to quickly control water height
The ability to walk and swim dogs
Ability to undertake dynamic & static handling
Compact space compatible treatment
The need for just one therapist
Can be limited in…
Therapists access to all areas of the dog
Ability to control humidity
Ability to control overstretch of the spine
The ability to vary rehabilitation techniques
A Hydrotherapy Pool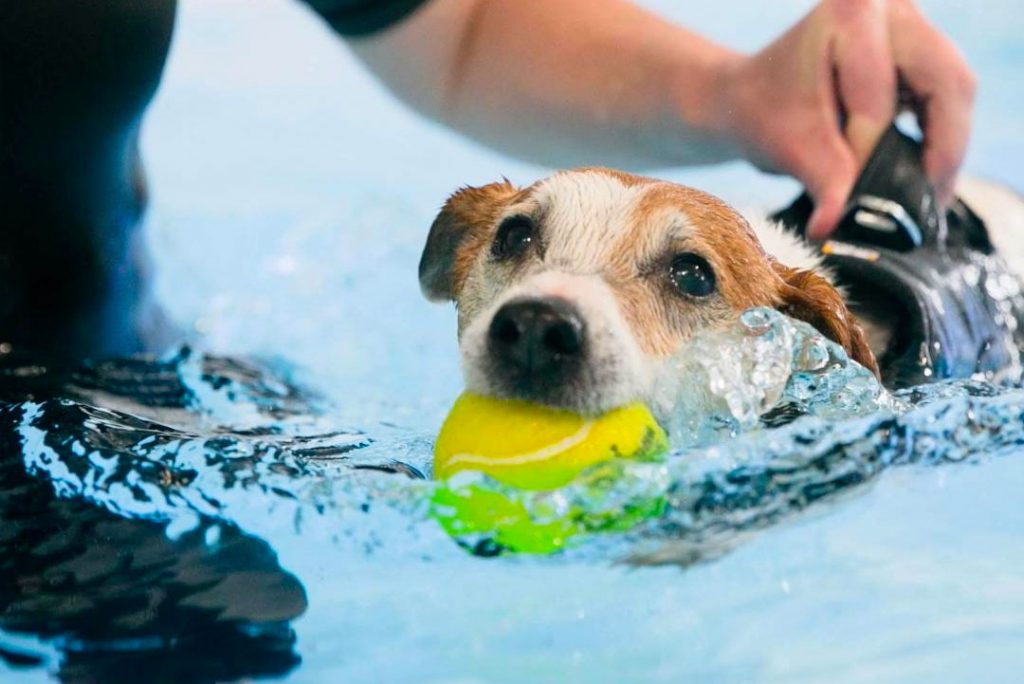 Provides…
A therapist with 360 degree control
Better control of humidity and temperature
Proprioceptively rich therapies
Ability to undertake dynamic & static handling
The ability to walk and swim dogs
Can be limited in…
Supporting nervous dogs
Provision for compact treatment centres
Single therapist treatment of paralysis conditions
---
How do you make the right choice
As you can see from above, both formats provide the ability to undertake extensive portfolios of dynamic and static handling techniques however ultimately the decision should come down to the Behaviour and Breed Standards of your animal – not the marketing ploys of hydrotherapy businesses.
So, in our opinion, choose a hydrotherapy centre with…
A Hydrotherapy Pool
If your dog:
Is a brachycephalic breed due to the humidity risks of a treadmill
Is nervous of enclosed environments due to the nature of a treadmill
Is an amputee as a dog losing balance in a treadmill could be catastrophic
Is a large breed that simple won't comfortably fit in anything other than a pool
An Underwater Treadmill
If your dog:
Is nervous of large open environments due to the nature of a hydrotherapy pool
Is nervous of water as treadmills can be filled slowly
Has significant access issues due to the ability to enter and exit easily* or where second therapists are unavailable
This is of course not an exhaustive list that you as the owner or veterinary care professional might think of but these, in our opinion, are the primary reasons. Otherwise, it comes down to what therapist do you trust and how well do they know their equipment to help your dog.
*We caveat this point with a comment that you must make sure the UWTM has two doors, so that it doesn't have to turn 180 degrees inside the treadmill to exit
---
The Canine Fitness Centre Facilities
We want to be clear that this is not a marketing piece around why we have a pool and why it could be seen as superior compared to an underwater treadmill. Hopefully this article has been informative to help you make the right decision for your dog.
At the Canine Fitness Centre we have chosen to have an 18ft by 9ft heated hydrotherapy pool because:
Our therapists can have a 360 degree view of your animal swimming, walking and standing
Dogs do not overstretch their necks and spine when looking at their owners due to the owners positioning
We have a much greater level of 'up-time' where the pool is not reliant on underwater mechanics
Our skilled therapists can supercharge proprioceptive treatments by combining aquatic walking & swimming
We can control the level of humidity in the room particularly in summer months
We focus on treating the dog and it's needs rather than the capabilities and space of our equipment
We have access to multiple therapists so can provide support to dogs with access needs
Hydrotherapy pools are much better for therapist wellbeing due to the stances required in an UWTM
We will never accept a dog that we believe demonstrates behaviours that are only suitable for an underwater treadmill and will always refer you to one of our partner sites who have this facility if it will be the best thing for your dog.
---
Think this is biased? Watch the webinar and analysis from Barbara Houlding, a leading Hydrotherapist and Physiotherapist in the field. Barbara is a course leader for at K9HS and discusses many of the same views outlined above in her online webinar found here.