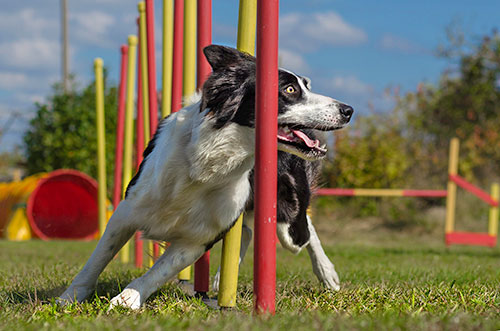 Conditioning the Canine Athlete
A primary concern for canine athletes is the risk of injury. A conditioning program tailored to your individual dog, and the sport they are involved in, will help prevent damage to their muscles and joints.
ASK US ABOUT OUR UNIQUE AQUA AGILITY COURSE AVAILABLE FOR CONFIDENT SWIMMERS TODAY!
Canine sports abound these days, and range from agility and disc dog to dock diving, hiking and many more. There's something to suit any breed or size of dog, and because it's such a great way for both canines and humans to stay fit while having fun together, more and more people are getting their dogs involved in athletic activities. These dogs reap a lot of benefits from all that physical exercise, but there is a downside – they're more likely to get injured than their less active fellows. You can help your canine athlete avoid being sidelined from the sport he loves by putting him on an individualized conditioning regimen.
Static Conditioning
All strength work starts on the ground or solid equipment working the muscles and joints with simple behaviours that build core strength. We'll start this work in our specialist Cani-Gym.
Dynamic Conditioning
Utilising our Cani-Gym balance equipment we will work to increase the difficulty of the exercises. We'll work on improving core strength by introducing unstable surfaces and number of repetitions.
Aquatic Conditioning
In our hydrotherapy pool we will use non-weight bearing activity to increase cardiovascular activity and work muscle groups. Where capable we will introduce Cani-Gym tools to the pool too!
---
Performance needs for sprint sport animals
Our strength and conditioning programmes are tailored for the needs of sprint sport animals who compete in agility, flyball and hoopers.
Some of the specific needs are:
Balance, proprioception and body awareness
Cardiovascular fitness
Increased use of fast twitch muscle fibres and specific muscle groups
Strength and power for high intensity and low frequency exercise
---
Performance needs for endurance activities
Differing from sprint sports, endurance activities such as Canicross, Sled dog racing, Bikejor and hiking or running.
Some of the specific needs are:
Balance, proprioception and body awareness
Cardiovascular fitness
Increase in muscle energy efficiency
Increased use of fast twitch muscle fibres and specific muscle groups
Muscle stamina through low intensity and high frequency exercise
---
Performance needs for controlled sports
Controlled sports such as Heelwork, Rally and Watersports have the specific needs such as:
Balance, proprioception and body awareness

Mental strength and stamina
Strength and power for high intensity and low frequency exercise
Muscle stamina through low intensity and high frequency exercise
Easy ways to book your session today
---
---